The New Year is right around the corner, this means 2023 tile trends come with it it. Tile is an excellent choice to add color, style, and texture to a bathroom to help refresh the decor. It is crucial to choose bathroom tiles made of contemporary materials, trendy designs, and tile orientations that will still seem elegant and timeless in a few decades. This will ensure the bathroom design may survive longer and retain its appeal. After observing what has been exposed in the most recent exhibitions, we have been able to come up with what we believe will be some of the 2023 tile trends for bathrooms.
2023 Tile Trends: Large Formats
Contemporary bathroom designs with wooden cabinets and large-format tiling on the walls and floors. One of the major trends for walls last year was large format tiling. It continues to a go to choice this year and is becoming more frequently used on the floor. Any tile larger than 12 inches is referred to as a large format tile. There are long format tiles that can mimic planks on walls or floors, as well as rectangular large format tiles that can be 12 inches by 24 inches, like our
Pro Series
. Or even larger, like our
Pigment series
that comes in 35 inches by 35 inches. Large tiles have a simple, simplistic appearance that enlarges the sense of space.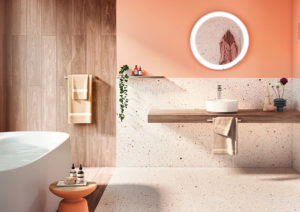 2023 Tile Trends: Marble Look Tiles
Natural stones such as marble tend to give any bathroom a more elegant and sophisticated appearance. Marble look tiles have been used in bathrooms for a long time, and will definitely be a 2023 tile tend. Marble look tile are available in a wide variety of patterns. From our
Slab series
Sahara Noir, a black marble with striking white veins, as well as traditional white marbles like Calacata Light and Calacata Gold, will be 2023 tile trends. Use marbles like Marble Nouveau, Topzaio, or Fossil if you want to replicate some of the other trendy bathroom hues of the year, such as blues, greens, and earthy tones.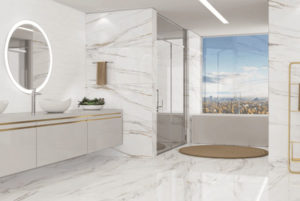 2023 Tile Trends: Wood Look Tiles
Bathroom design inspired in wood look tiles will likewise be a 2023 tile trend. Since real wood is susceptible to damage from dampness and water in bathrooms, using wood-look alternatives like porcelain planks can be a popular substitute. They provide the coziness and organic appearance of wood without the upkeep or wear and tear. Check out our blog post
Wood Look Tile: A Rising Trend
for more information on 2023 Tile Trends. Wood-look tile planks can be utilized in the shower as well as on the floor and the walls. For added interest, arrange them in straight rows like a wood floor, stack them against the walls, or make patterns like herringbone or chevron. Stacking wood-look tiles vertically on the walls will provide a calming and distinctive appearance. Because they are long-format, wood-look tiles also help fit other trends. Discover all the
wood look collections
we have to offer.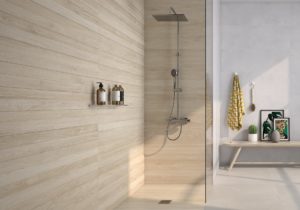 Contact us
or visit any of our
locations
to discover the options we offer based on these 2023 tile trends.
---
02 Dec, 2022