You have chosen the vanity, the shower accessories, towel bars, and other bath fixtures for your remodeling. You only have one decision left: the tiles. You like the look of ceramic tile, but you wonder, is ceramic tile good for shower walls? Keep reading to discover the benefits of installing ceramic tile in shower walls.
STYLE OF CERAMIC WALL TILES
Doing a bathroom remodeling is the opportunity to give it a complete makeover. Nothing quite says fashion like ceramic tile. Currently there are so many ceramic tile options to choose from that allow you to create any design. You can mix patterns; you can use hexagons, like those from our
Casablanca
series. You can also go for subway tiles with a twist like our
Ombre
series. Is ceramic tile good for shower wall? Yes, since it allows you to mix tile sizes and colors to make fun designs in your shower walls. Check out our last blog post
Top Summer Tile Trends
for more inspiration. If you want an original design, ceramic wall tiles are your way to go.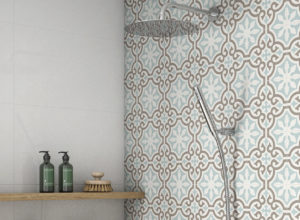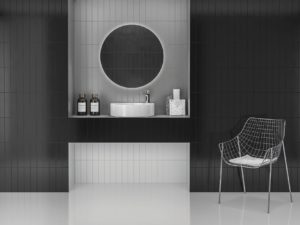 PRICE OF CERAMIC WALL TILES
Still not sure if ceramic tiles are good for shower walls? Let us talk about affordability. Compared to other tile materials, ceramic wall tiles present an affordable option that does not compromise on style or viability. The durability of ceramic wall tiles will justify their initial cost and installation. A bathroom with a good quality ceramic wall tile can actually increase the value of the property that will allow you to see a return on your investment in ceramic wall tile. One of our star series,
Color Collection
, is a very affordable and durable option to try out.
Contact us
or stop by any of our
locations
to obtain more information.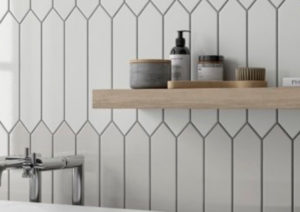 DURABILITY & LOW MAINTENANCE OF CERAMIC WALL TILES
We covered prices, now let us talk about durability to see if ceramic tile is good for shower walls. Unlike other types of tile, ceramic wall tiles are highly durable and very unlikely to crack due to everyday wear and tear. With the proper installation and maintenance, ceramic wall tiles can last up to twenty years; it is no surprise ceramic tiles are such a popular option when it comes to shower walls. Should any of your ceramic wall tiles crack for any reason, it is very easy to replace them. Moreover, ceramic wall tiles are very easy to clean; simply wipe away dirt and other stains in a matter of seconds and they will be gone. It is no secret that bathrooms, mostly shower walls, are prone to stains and spillages. Making ceramic wall tiles a top material for those looking to keep their shower walls stylish without the trouble.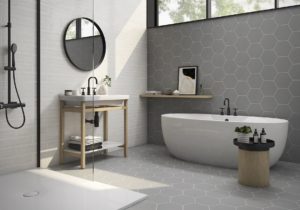 MOISTURE RESISTANCE OF CERAMIC WALL TILES
Moisture and humidity resistance are also essential qualities when it comes to defining if ceramic tiles are good for shower walls. Bathrooms are damp environments; glazed ceramic wall tiles have a protective layer that prevents them from swelling or deforming when exposed to high levels of moisture. This is an amazing benefit when it comes to wet shower walls or a steamy bathroom after taking a shower.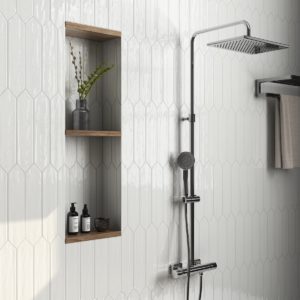 Is ceramic tile good for shower walls? The answer is yes! Check out our
Ceramic Wall
series for your next project.
---
15 Jul, 2022