Tile with a handmade look elevates the design of spaces by giving them an artisan touch and a bespoke feel. Color variations along with irregular edges on the tile's surface create a more customized look. These tiles are typically used in backsplashes, shower walls and niches, fireplaces, and as accent walls in any room.
ROCA HANDMADE LOOK COLLECTIONS
The following series form our handmade look collection portfolio:
Arlette, available in one format and four colors.
Flow, available in three formats and twelve colors.
Magnolia, available in one format and four colors.
Maiolica, available in four formats and six colors.
Olaria, available in one format and six colors.
St Tropez, available in two formats and six colors.
Zellige, available in one format and five colors.
INSPIRATIONAL MOODBOARDS
Combine the vivid color of our St Tropez Coral with the neutral tones of Maiolica Floor in Tender Gray, Olaria White, and Zellige White, along with our Slabs Athea and Rockart Thassos to create a transitional look.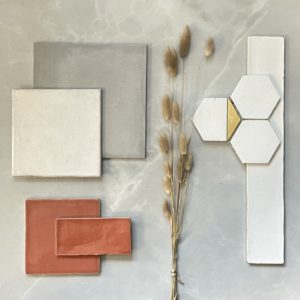 Add a spin to classic looks by combining our Olaria Warm Gray, Maiolica Blue Steel, Zellige Tender Gray or Dark Gray with Tribe Ivory, Bianco Venatino, and Rockart Carrara Hexagon.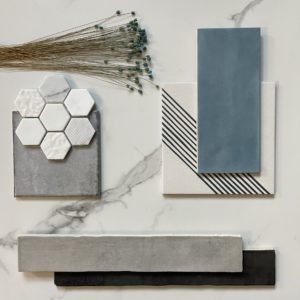 To achieve a contemporary look using white and blue tones, use the Magnolia Blanco, St. Tropez Azul, Zellige Deep Blue, and Zen White wall tiles with Stone Basel Gris and Maiolica White Hexagon as floor options.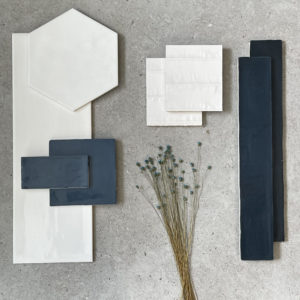 Use our Arlette Blanco, or Olaria Baked Clay and Zellige Forest Green to add a pop of color. Combining these with the Suite Abbey Roble and Limestone Arena, Blanco, or Gris can help create a French country look by incorporating stones and earth tones.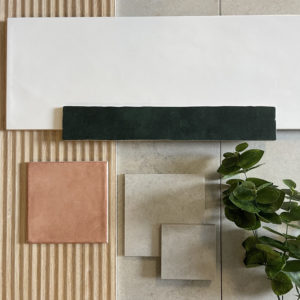 ---
25 Feb, 2022