Whether you're looking to spruce up a small bathroom or renovate an entire ground level, tile flooring is the most aesthetically and functionally versatile material available. Of course, with nearly infinite ways to incorporate it into a renovation, knowing what will suit your project best can be overwhelming. With that in mind, here are some of our most inspired ways to liven up your living space with tile flooring.
Accent A Wall
Just because it's called floor tile doesn't mean it needs to remain on the floor. In fact, one of the most impressive and dynamic ways to include floor tiles in your home is by building them into a wall that stands apart from other designs in the house. For the biggest effect, consider choosing a wall in an area that is high traffic and most prominent. Then, match accent colors and patterning to other decor items around the wall. 
Though there is no law about which sizes and shapes of floor tile are best for an accent wall, a rule of thumb is that smaller tiles tend to work best in smaller areas.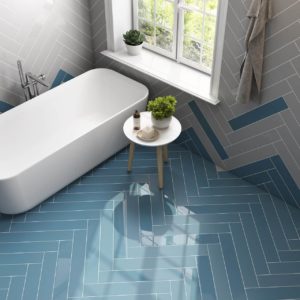 Put in a Backsplash
Not looking to dedicate an entire wall? No problem. A kitchen backsplash is both a smart and subtle method of involving tiling without overreaching. And it's the perfect way to complete that kitchen that feels slightly incomplete. 
If you're the traditional type, go with a glass mosaic of uniform tiles. If you're looking to get outside the box you can mix different colors, shapes, and sizes and orient them at unique angles. By doing so, you can add a modern flair to just about any kitchen.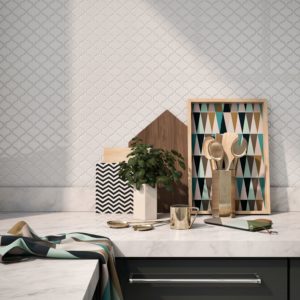 Line a Hallway or Entryway
Kitchens and bathrooms are the typical locations for tile flooring, so by choosing other rooms to incorporate them into, you're making quite a statement. 
For example, an elegant crosshatched design inlaid at an entryway will make a unique first impression on guests and visitors. Likewise, the right patterning and design placed in a corridor can enliven a small space and make throughways around your house as ornate and captivating as anything else in it.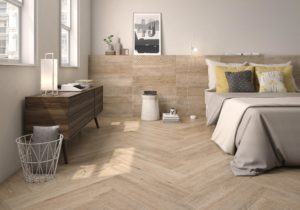 Bring It Outdoors
Tile Flooring is ideal for just about anywhere indoors, but that's not all. Whether porcelain, sandstone, concrete, or anything else, it makes a great choice for the spaces outside and around your home, too. You can include flooring tile in outdoor areas by:
Incorporating it in a pool or tub area
Use it to revitalize a dated patio
Inlay it in startling and alluring patterns through garden areas
And individualize an outdoor kitchen area by using it to adorn countertops or a backsplash.

You Dream It, Roca Tile USA Achieves It
For over 100 years, Roca Tile USA has been helping homeowners turn their homes into works of art. Our high quality, environmentally friendly porcelain products are ideal for both indoor and outdoor installation. 
To get started, browse our unique catalogues and collections online for inspiration, or visit any one of our showrooms located throughout the country today.
---
17 Dec, 2021