Outdoor spaces with style that would make you relax and enjoy. This is how these three modern and elegant terraces from which you will get inspired are.
IN &OUT TERRACE IDEA
Outdoor spaces splash the interior of a
habitat
and vice versa; the essence of a living space with a terrace is the exterior-interior connection that occurs. We are used to see interior patterns and textures merging with the outdoor spaces. However, what about the opposite? The interior can also splash and establish a connection with the outdoor spaces through decorative details that turn the entire house into a continuous space.
The Hangar
series from our
Special Order Program
could be an option to achieve this modern terrace idea, blending space.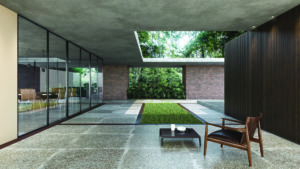 BONFIRE TERRACE IDEA
Taking the inspiration from Will Smith and Jada Pinkett's incredible backyard, is home to everything you need for outdoor entertaining, from a full kitchen with BBQ to a beautiful pool. However, to add a cozy touch to their modern and elegant terrace, with views of the city's sky, we recommend the use of seamless patterns in your election of porcelain flooring to go with modern furniture around an irresistible bonfire. The In & Out finish of our
Abaco
series is a perfect choice if you are looking to recreate a terrace like the one from the Smith's. [caption id="attachment_36762" align="alignnone" width="300"]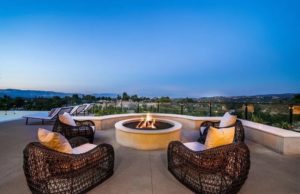 Photo: Architectural Digest[/caption]
COZY TERRACE IDEA
The dining table under a skylight along with the light that enters through large windows: this is a great way of converting an outdoor space to a modern and elegant terrace. Think about creating a space that will be ideal for both winter and summer; natural tones and materials are a success. With its neutral colors and smooth variation in pattern, our
Pro Max
series will flow naturally in any space. Moreover, they come in an ABS finish – 30% more adherent than conventional anti-slip surfaces. Placing curtains is an elegant detail to help you modulate the sun's rays and insects making it cozier.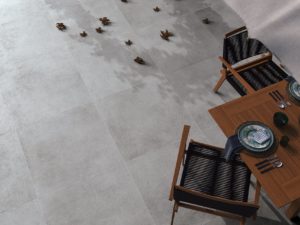 Already have a terrace idea in mind? Check out our
other collections
.
---
15 Jun, 2022