Over the past years the wood look tiles have become one of the favorites in home décor trends, improved technologies make this look extremely realistic and popularity has risen. The variety in patterns and the properties that the porcelain offers over other type of flooring and natural wood itself, makes it a great choice.
Wood plank looks in porcelain tile are also more versatile when talking about installation patterns, allowing more variety of patterns out of the traditional. Here are some ideas to get you started on a beautiful and cozy vibe.
Design Inspiration for Wood Look Tiles
There is currently a wide array of options mimicking almost any kind of wood. These new styles also provide new finishes, which are suitable for wet areas. An example is our Abbey series, available in ABS finish, which is 30% more adherent than conventional anti-slip flooring surfaces, not to mention the aesthetics of the pattern, seamless and natural.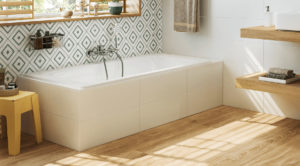 Wood look tiles are easy to combine and an excellent complement for marble looks, stones, and handmade accents. Combination of different wood styles is also a good way to go; Abbey, Colonial, and Everglade play a harmonious composition in this mood board of a modern farmhouse look.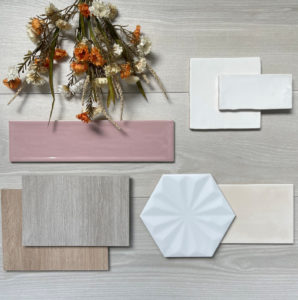 If you are thinking of adding extra dimension to a space, the way in which you install the planks plays a big role. Our Borneo Chevron series is an option to create this effect. In the collection site, we provide a guide with different ways to position them.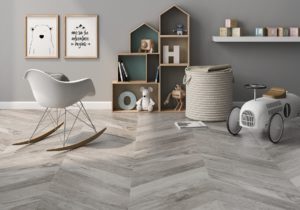 For a scaled look, you can use textured wood look tile in accent walls. Abbey Suite tiles or Bosco Suite from our Special Order Program are both great choices. Textured in tiles add dimension and realism to any design.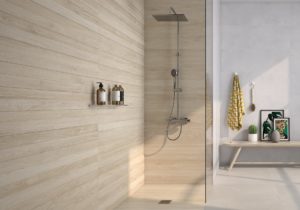 No matter what style you choose, wood look tiles will always upgrade your design. Check out our other wood look series here.
---
18 May, 2022