Whether a half-bath or a master, there comes a time when they might need a renovation. Thankfully, adding new bathroom tiles to the space is a simple yet dynamic way to reimagine it while making sure the overall vibe is one of relaxation and rejuvenation. Read on to learn more about Roca Tile USA's four favorite ways to give your bathroom a makeover using tiling alone.
Colored or Accented Subway Tiling
If you've ever taken the subway, then you know there's something timeless, classic, and rich about the Block collection that line the walls of the stations. Both practical and appealing, these rectangular, brick-like tiles do wonders in opening up the feel and size of a space, especially if inlaid in a deep dark blue tone. With nearly endless options in shades, such as a subtle beige, misty gray, and warm mint green, subway tiles are ideal because they are versatile and flowy enough for both traditional and contemporary color motifs.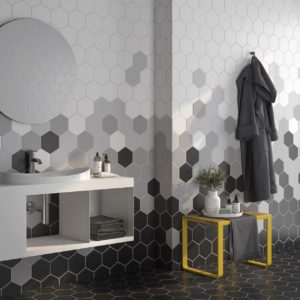 2. Sky Blue Penny Round Mosaic
For some, the muted cream and gray bathroom tiles that are often used are something to be desired. In this instance, the bright and soothing blue hue of a sky blue penny round mosaic on a single wall can serve to energize and accent while still providing a traditional feel. Against an otherwise neutral backdrop, this choice can pop and bring the room to life in a way sure to turn heads and leave jaws agape.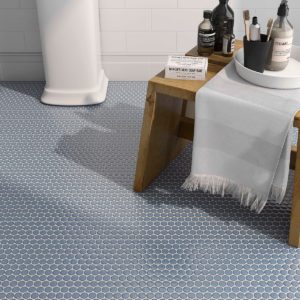 3. Metallic
Inlaying a bathroom floor with metallic tiling is a bold and retro choice. Whether you prefer silver or rose gold, you will love the way metallic tile plays with the light, and highlight or mute the intricacy of the design. Whether you choose a brick or penny round shape, this tile is sure to mesmerize.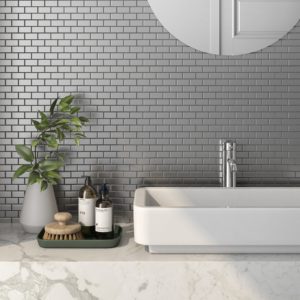 4. Marine Scales
If you're looking to infuse an aquatic feel into your bathroom, few options are better than Roca's Rockart scales, which bring to mind both waves and the fish beneath them. Of course, scales can also be cast in different colors, like ochre, terracotta green, and for the truly adventurous, pink. Whatever hue hits right, this scale pattern offers an organic and otherworldly elegance that will help to define your bathroom as a masterpiece in and of itself.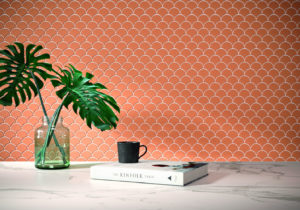 You Dream It, Roca Tile USA Achieves It
Roca Tile has been assisting customers for over 100 years, turning spaces into works of art. No matter if you want renovations done in a kitchen, office, a veranda, or just about anywhere else, our products are ideal for just about anywhere.
When you're ready to explore our inventory, browse through our unique catalogues and collections.
You can also visit any one of our showrooms located throughout the country today.
You may also like:
Trends we hope to see more off in 2022.
---
03 Dec, 2021