It is no secret that a kitchen is the heart of the home. Besides being a functional room, it is a space where family and friends get together to share special moments. With the holidays coming up, it is the perfect time to show your personality and reflect your lifestyle through the kitchen backsplash. Everyone loves the traditional white subway tile, but currently there are so many other options in the market to step up the game a bit. We bring you four ideas of different mosaic tile for kitchen backsplash.
Mosaic tile allows you to easily step away from a typical square or rectangular shape without the struggle of cutting separate tiles to form a pattern. Meshed mosaicm tile come with an already assembled structure, making installation very easy.
Shape Shifting with Mosaic Tile for Kitchen Backsplash
Roca's Rockart Collection offers the classic chevron patterns with an original twist, creating an elegant but different visual. The collection also features marble look lantern shaped mosaics that provides a classic and glamorous. This collection has the perfect mosaic tile for kitchen backsplash. Give an edgy touch to you room with this marble-look option.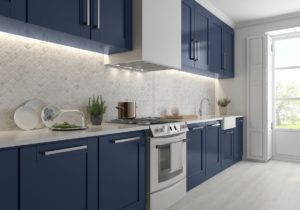 Metals Mosaic Tile for Kitchen Backsplash
If a versatile mosaic tile for kitchen backsplash is your way to go, you are in the right place; Roca has the perfect collection. The Metals Series is versatile by nature, metallic mosaics allow for multiple combinations from the more rustic & traditional to the contemporary. Available in silver and rose gold in a subtle brushed finish, these mosaics will create one of a kind point in any room. The Metals Rose Gold Penny Round mosaic steals the show in this beautiful kitchen design.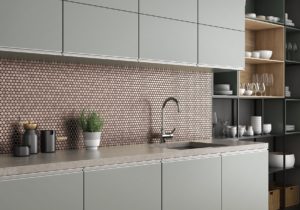 Picket Mosaic Tile for Kitchen Backsplash
Picket mosaics create a vintage look when installed as a kitchen backsplash. We love the contrast in this classic kitchen between the green cabinets and white tile. Besides being the Paint Colors of the Year, green tones convey a sense of calm. Mix that with the white pickets of Roca's CC Mosaics + Collection create the perfect contrast between classic and modern, making it an amazing mosaic tile for kitchen backsplash.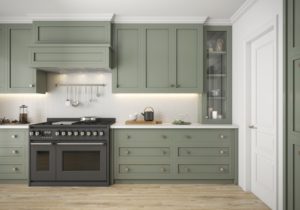 Marble Look Mosaic Tile for Kitchen Backsplash
Did you know Roca had several marble look mosaics to choose from? If a marble countertop is not in your price range, opt for a small-scale use of the material: porcelain marble look mosaic tile for kitchen backsplash. It can make a simple kitchen design turn to a very elegant one.  Choose from the series Bianco Venatino, Calacata Gold, or Statuary depending on the type of veining you are looking for.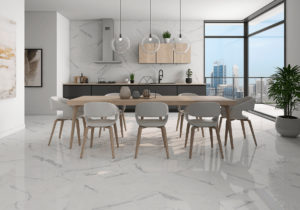 Transform your cooking space with one of these modern mosaic tiles for kitchen backsplash. With so many options in the market, you can find a kitchen backsplash that fits both your style and budget
Want more ideas of mosaic tile for kitchen backsplash? Check out all our mosaic series
Contact us or visit any of our locations for more information.
---
04 Nov, 2022