Besides being durable wall and floor covering solutions for the retail and hospitality industries, tiles give you an opportunity to create unique spaces that stand out! From a broad range of stunning looks to easier maintenance than hardwood and carpets, ceramic, porcelain, natural stone tile options are great for commercial use. Whether you are designing for a small coffee shop or luxury hotel lobby, the key is to create the right blend between aesthetics and function for a successful tile design. To determine what are the best tiles for commercial use, we need to discuss a few important factors.
Choosing the Right Hardness in Tiles for Commercial Use
At Roca Tile, we classify our series by Usage Group Index. This range from one to five, where one is for wall application only and five is for areas with intense traffic. This classification will help us determine the best tiles for commercial use; you can check this list in our
Tile Book
. Before selecting the product for an installation, we recommend to always check the group to which it belongs, with regards to the intended application. The best tiles for commercial use need to be from group three or above. Tiles belonging to group three are usually a good choice for a small business; these tiles are durable enough to hold moderate traffic such as in reception areas and office spaces. Group four tiles are more suited for floors in retail and hospitality businesses, such as hotels and bars, since they are highly visited areas. Tiles in group five are made to handle intense traffic in places like malls or airports.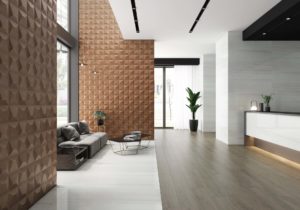 Slip Resistance in Tiles for Commercial Use
Although hardness is extremely important when it comes to picking the right tile for a business, it is only one aspect to consider when choosing tiles for commercial use. The slip resistance of commercial tile should also be considered. This can be assessed by checking the Dynamic Coefficient of Friction (DCOF) and the finish of the tile. According to the American National Standards Institute, the minimum acceptable DCOF value for surfaces that will be walked on when wet is 0.42. At Roca, we offer In & Out and ABS finishes for some of our collections; check out the
Innovation &Technology
tab for more information. If you are going for an industrial look you can go for the
Abaco
series in In & Out finish.
To create warm and simple spaces with a wood look tile, try going with our
Abbey
series in ABS finish. A seen in the room scene below, they are ideal tiles for commercial use.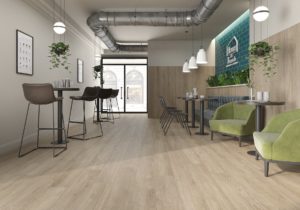 We have given you the basic guide on how to choose the best tiles for commercial use. However, Roca recommends the use of the Product Technical Specifications available on our website, in order to be more familiar with the product and make the most suitable choice. Although the final responsibility of the choice of the Roca tile used lies with the user and the project's management, Roca's commercial and technical staff will be pleased to advise you on the choice of the tile product.
Contact us
or visit any of our
locations
for more information.
---
07 Oct, 2022