There are many different ways of creating a kitchen backsplash. You can use virtually any material, and you can install them in numerous patterns and designs. If you're looking for the hottest in backsplash trends, however, there are several that experts highlight for 2022 that are sure to meet the needs of most kitchens and spaces. The following five trends have been chosen by experts to take your kitchen design to the next level.
Trend #1 Ceiling Height Backsplash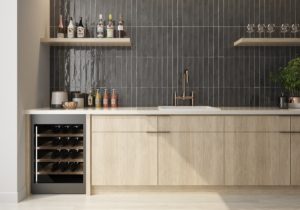 Whatever the appearance and finish you are considering for your backsplash, consider making the space look more dramatic by extending the backsplash up to the ceiling. This is a good look for kitchens that use shelves rather than cabinets, as the backsplash can surround the shelves. However, you can also extend the backsplash about and around cabinets as well, showing off areas that may have been previously covered by soffits and other outdated designs.
You can take any tile up the ceiling, as well as any slab backsplashes as well. Some patterns and tiles don't look the best in this design, however. Anything with a lot of pattern and movement could quickly overwhelm the space. To help avoid this, consider using large format tiles in porcelain or ceramic for a sleeker and less busy effect.
Trend #2 Ceramic Tiles That Create a Pattern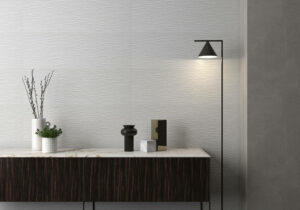 If you're looking for something more decorative for the backsplash, consider ceramic tiles that create a pattern. These are tiles that are designed to be installed together in groups to create repeating patterns on the walls. There are many different ways that this can work:.
You can choose to use a tile that is glazed in a repeating pattern that will link up with other tiles. This is most common when creating a more retro kitchen design, but there are many contemporary patterns as well. These tiles most often rely on a mixture of colors and shapes within the pattern. They often must be installed properly for the pattern to work, which can increase labor costs.
Another method is to use tiles that have some dimension to them as well as a pattern, like this Tissue. There's only one color, but the carved pattern repeats across the backsplash, adding movement and interest to the design.
Patterned tiles of all kinds can also be extended to the ceiling. Just be careful not to use anything that is too loud or busy when doing so to avoid overwhelming the space.
The Importance of Textures in Interior Design
Trend #3 Slab Backsplash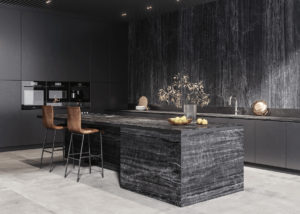 Slab backsplashes are a fantastic way to create a kitchen that looks luxurious as well as stylish and cohesive. A slab backsplash takes the same material you used on your countertop and uses it on the backsplash as well. This creates a smooth, continuous look for the area, which can make it appear larger with a more subtle appearance than tile will give you.
Trend #4 Natural Stone Backsplash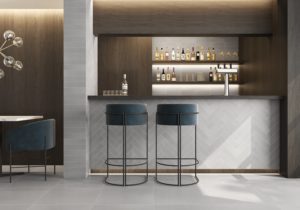 Nature has taken over the interior design trends this year. From materials to finishes and even colors, there is a general trend towards nature-inspired designs. When it comes to backsplash, stone finishes are really popular right now but you don't need to invest in natural stone to have the desired look - for example, Pro series can give you an elegant marble look with its gray veins. Compared, ceramic tiles with the appearance of marble can not only be a smaller investment than real marble, they also have the benefit of needing less maintenance, being easier to install and more resistant to stains.
Trend #5 Glazed Tile Backsplash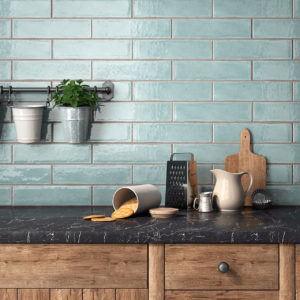 Finally, glazed ceramic tile is also a popular backsplash trend for 2022. Glazed tile comes in an incredible range of different colors and styles. The tiles can be machine or handmade, and come in an enormous range of shapes and sizes including subway tiles and other rectangles, as well as squares, diamonds, circles, and other unique shapes.
Glazed tiles can be used on their own or combined with other materials for a variety of looks. You can confine them to the backsplash area or extend them to the ceiling. And if you use a line of tiles like Maiolica, you can even find some decorative repeating patterns in the same colors to accent a larger field of solid colors. This way, you can capture several trends at one time.
Capture Your Ideal Trend
Backsplash trends can help ensure that your kitchen stays fresh and attractive for the longest period of time. You can also use trends as inspiration for your own ideas to create your ideal kitchen space. If you're looking for tiles in porcelain or ceramic that can meet your backsplash goals, be sure to check out our other products to find many materials and styles that can help you meet many of these beautiful trends.
Stefania Filizola is a design editor at Fixr.com, a website that connects consumers with contractors in their area and estimates the cost for remodeling projects. She writes about home improvement tips and trends to help homeowners make better remodeling decisions.
---
22 Apr, 2022