Wallpaper has been a decorative asset in interior spaces for a long time and is now coming back into style. However, before going out to buy it, have you thought of creating the same effect with ceramic wall art?
Benefits of Ceramic Wall Art
When it comes to the ceramic wall art vs. wallpaper question, there is not much of a competition. Ceramic tile can help you get the look, and even texture, of the wallpaper with minimal concerns. For example, creating ceramic wall art that looks like wallpaper provides the following advantages:
Bacteria-resistance:Ceramic wall tiles are hostile to the growth of bacteria. Moreover, there are currently many innovative wall ceramic tile finishes with highly antiviral and antibacterial properties.
Stain-resistance: Stains, marks and other messes are easy to clean from ceramic wall tiles. You will usually just need water or a non-abrasive cleaning compound to remove any stain. Check out our Tile Care section for more information.
Scratch-resistance: Unlike wallpaper, creating ceramic wall art will not scratch, tear, or rip.
Fade-resistance: The colors of ceramic wall tile are baked into the surface to make it fade-resistant. Create ceramic wall art to get that wallpaper effect without worrying about the color!
Water-resistance: Ceramic wall tiles are water-resistant, so you can use them in your bathroom, kitchen or any water-prone area without worrying about damage from splashes or humidity. Check out our latest blog: Is Ceramic Tile Good for Shower Walls? For more benefits.
Additionally, ceramic wall art can create the exact look of wallpaper. The possibilities are endless; let us talk about Roca's ceramic wall tiles that could be used.
Mosaic Mesh for Ceramic Wall Art
I know you are thinking mosaics are too small, how can they create a wallpaper look? Mosaic tiles can create design repetition to obtain a ceramic wall art similar to the designs on wallpaper. Choose from any of
our mosaics
with different shapes and colors. For example, the
Rockart Scales
from our
Special Order Program
will create a one of-a-kind look.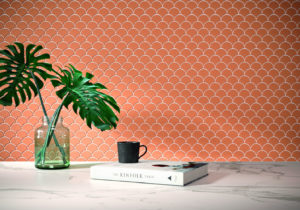 Alternatively, you can also incorporate different shades of similar shape to create a pattern repeated throughout the full wall. The example below is from our
CC Mosaics
collection.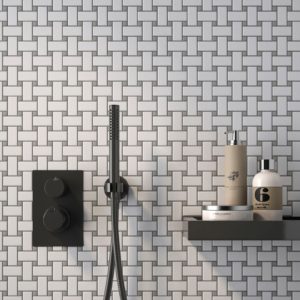 Pattern Tile for Ceramic Wall Art
A surface pattern repeated on tiles creates a ceramic wall art. With wall ceramic tile, the pattern can be created using shape, color, or even texture. Choose a tile with a pattern that connects across multiple tiles. You can extend your ceramic wall art to areas where a wallpaper cannot be installed, such as the floor or very humid areas. You would not dream of sing wallpaper in a shower, however, wall ceramic tiles, as mentioned before are water-resistant. Create you indoor jungle with our
Selva collection
. Either as a single pattern or patchwork, this series allows for creativity.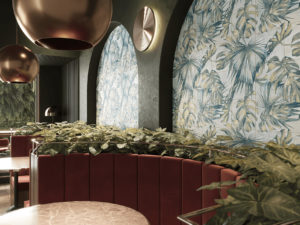 Another collection with mismatched patterns is
Tribe
. This series can be played around with to obtain an original space.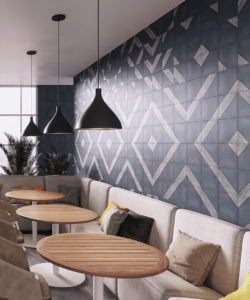 These are just ideas to create ceramic wall art in any room. If you already have another idea in mind, check out our
other collections
and get to work!
---
29 Jul, 2022