For many parts in the Northern hemisphere, this season means darks morning and evenings. The spaces that suffer the most in our homes are the small rooms. This might sound a bit odd, but one of the solutions to transform these rooms is tiled walls. This is an interior design trend that we have being seeing a lot lately, and we believe this is the perfect time to incorporate it in your home. Keep reading to discover the different tiles that can be used to give a bigger appearance to any room.
Tiled Walls in the Living Room
Although completely tiled walls are less common in rooms like bedrooms, living rooms, and dining rooms than they are in bathrooms and kitchens, some designers use this signature design to make small, dark spaces feel lighter and a bit bigger. Glazed tiles are slightly reflective, which naturally helps in reflecting light. The collections from our
Lithology series
could be a perfect choice to create tiled walls to make this everyday room look bigger. The
Vesta collection
is a new interpretation of Travertino marble ideal to accomplish a visual and tactile effect with its soft carving.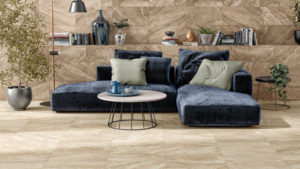 However, it is not as simple as just covering your walls with any tile, texture is also very important. Light reflection on textured tiles create an illusion of depth, which heightens the perception of the room with tiled walls. A handmade look tile will be ideal because of its uneven surface and irregular edges. In addition, they have a slight color variation like our
Zellige series
available in five different colors.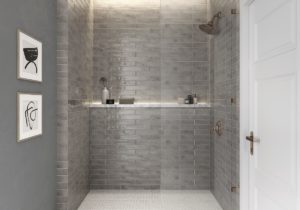 The Benefits of Designing Tiled Walls
Now that we have given some ideas on the different tiles that could be used for this interior design trend, let us discuss the benefits of making tiled walls. The glazing in porcelain tiles can add color or texture to them. This glazing provides a better color protection and are easier to clean compared to others. Read more cleaning tips in our blog post on
How to Clean Glazed Porcelain Tiles
or the
TILE CARE
section in our website. Now, regarding handmade look tiles, the collections we offer are all wall ceramic. Ceramic tiles are also very low maintenance and come in smaller formats, making it a versatile choice that allows you to create any kind of design. Tiles are used for more than just protecting the surfaces of your home; they contribute significantly to the interior design of your home by fostering a mood that enhances the look and feel of the living area.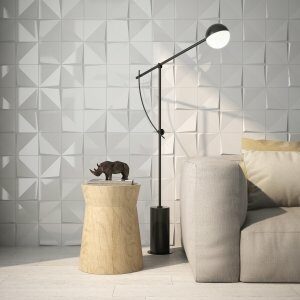 Last but not least, tiles are a smart choice because they are budget friendly. Ceramic and porcelain pricing are still the quality options with economical and moderate pricing.
Contact our sales team
or visit any of our
locations
to discover the options we offer to transform your rooms with tiled walls. Already chose the prefect collection? You can check the availability via the
CHECK STOCK
tab in our website.
---
16 Dec, 2022