Using exposed materials, neutral colors, and textures – interior design with industrial floor tiles for a contemporary décor. A trend that started at beginning of the 2000's is now a very popular trend of modern urban interior design, a balance between function and for to create both serene and refined spaces. But, how can you achieve this unique aesthetic using industrial floor tiles? Here is everything you need to know about the style that redefined modern interior design and two options on how you can incorporate it into any room.
How to Use Industrial Floor Tiles to Create a Modern Space
The secret to producing a modern space with industrial floor tiles is to use certain pieces with unusual textures, like for example our
Momentum collection
: a mix of two opposites, fabric and cement. This series aims to blend into its surroundings in a landscape of interrupted weaves. These elements can also be combined with more uniform finishes, such as our
Kalma collection
, to help bring out the best of both worlds. The texture and finish of metals and concrete can achieve this modern aesthetic, but tiles can replicate practically any design feature in a very practical way. Modern tiles may give your area the appearance of polished concrete or aged metal with exceptional performance, minimal maintenance, and a reasonable price.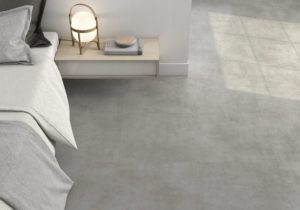 Currently, there are even technologies like our In&Out finish, for a silky but slip-resistant surface, and Biosafe, for antibacterial and antiviral activity. Check out the
Innovation & Technology
tab in our website for more information.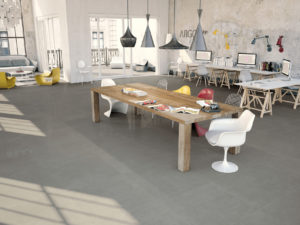 Make It Last: Concrete Look Tiles
Concrete walls and floors are among the most sought-after building materials for achieving a luxurious and laid-back industrial style room. They are a staple of current industrial interior design. While offering a more minimalist and refined aesthetic, concrete captures the same urban and raw flare of industrial style, bringing the look to the modern canvas for a variety of décor possibilities. Alternative materials like porcelain are used to create concrete-look industrial floor tiles, which have an easier installation process, less maintenance requirements, and superior performance. Check out our
Pro
and
Pro Max
series for a basic and essential look for both indoor and outdoor spaces.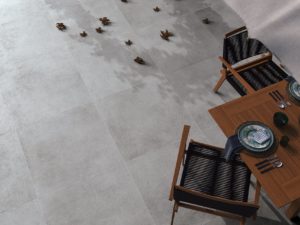 Monochromatic Look with Industrial Floor Tiles
Industrial floor tiles are usually proposed in ranges of neutral colors, both cool and warm; this makes it very easy to create monochromatic spaces. A one-color palette can be very beneficial for your project because it can create a harmonious and visually cohesive look. Not to mention that it makes the interior designer's job much faster and easier. Since you do not have to be focused on combining colors, you can discover new possibilities of textural variations that you likely never considered, or even noticed, before. This bathroom with our
Derby collection
is a perfect example to illustrate this.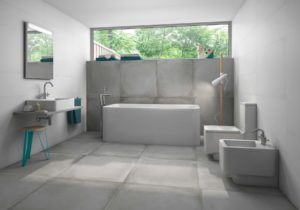 Thinking about using industrial floor tiles in your next project? Check out
all the collections
we have available and our
inspiration tab
for ideas.
Contact us
or visit any of our
locations
for more information.
---
09 Sep, 2022