In addition to the striking design, porcelain tiles provide the easy cleaning that kitchen need.
As if this room wasn't already prominent in our lives, now that we spend more time at home, it has become even more essential. Whether it is to prepare a delicious meal during quarantine, or for more sophisticated dinners, it is an important room of our homes and needs practical solutions to uncomplicate our everyday life. One of these solutions is the use of backsplash.
The use of back splash involves a covering strip that protects the area located behind the sink, between the counter wall and the upper cabinets. The 'splash' alludes to the splashing of water or oil, which usually happens there, because it is a wet area. "Increasingly popular trend, the backsplash is widely seen in kitchens, but can also be used in bathrooms or laundry rooms, for example", says Christie Schulka, Marketing Manager at Roca Brasil Cerámica.  Roca counts with several perfect coatings to be used in this area of the house.
Backsplash is a beautiful way to decorate, but its function is even greater – it protects the wall, avoiding potential infiltration and fat impregnation. "When the material is wisely chosen, it makes cleaning the area much more practical. We always recommend porcelain tile or ceramic tile, both resistant", says Christie.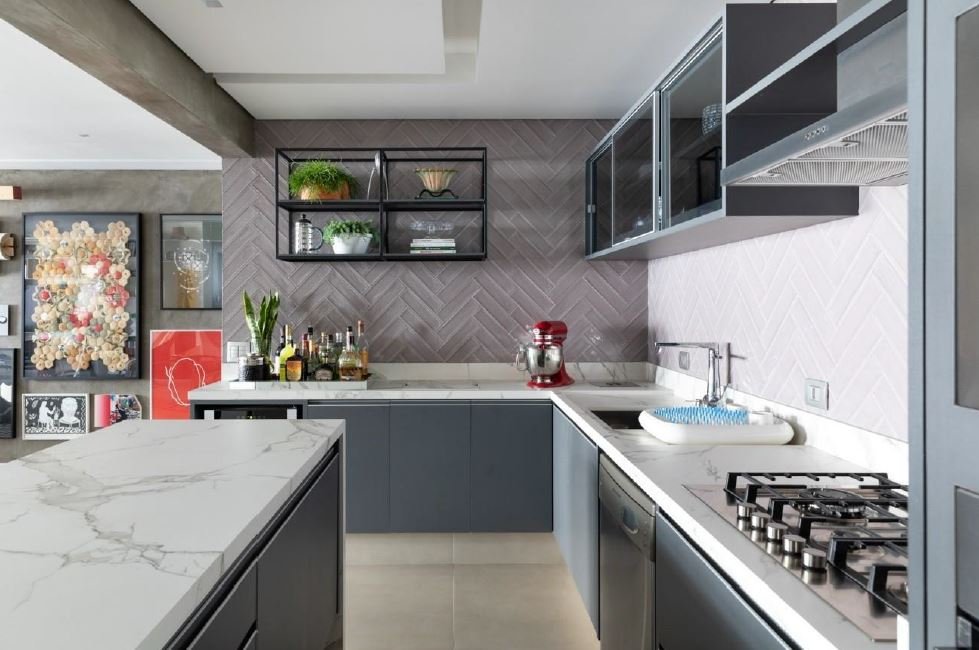 A good example is the Flow line, applied to the project of architect Carlos Navero. Its grayish tone follows the palette of the apartment, but has gained a glossy finish, attracting the eyes to the solution. "As this is a wall that is very evident, I chose neutral coatings and bet on a distinct layout", explains Navero. "In this project, kitchen and living room are integrated. So, the idea was to harmonize the backsplash with the base of the entire apartment".
Navero reminds that it is always important to consider what the kitchen of the property is like – when it is open and integrated, we must always take into account the style of living. "Although the backsplash should harmonize with the style of the project, it is a prominent wall. It is possible to dare with colors, layouts and textures", he points out.
The highlight can also be achieved through prints – as seen in Roca's Casablanca collection, which explores geometric elements combined with shades of gray, in small pieces resembling tiles.
According to Christie, cleaning Roca's porcelain tiles can be done quickly, making it practical for the backsplash – only with a cloth damp with water and neutral detergent. "Besides the advantages of the material, our pieces are rectified and have minimum joints of only 1 mm, reducing the accumulation of dirt, fungi and bacteria", she points out.
"Besides transforming the aesthetics of the room, backsplash is a cost-efficient solution, since it is applied only in a small area of the wall", Christie comments. Navero adds: "It is a practical, functional and useful way to impart the resident's personality in the room."