Every two years the Roca Tiles Design Manager develops our company's design trends that will be the stepping stones for our product development. Inspired by these trends, the Roca USA marketing team has created our #MixandMatch Project. This project aims to help architects, designers and end- consumers combine our tile products to create stunning spaces based on the 2018 – 2019 Roca Trends.
The month of September focused on New Urban Rhythms, a trend defined by the beauty and functionality needed to survive in an urban universe. A need for self-expression and vintage spirit as well as a fusion of natural and alternative elements resulted in new ways to understand and interpret interiors. The addition of pastel tones with more character and the reinterpretation of the basic colors also characterize this trend.
The Urban Rhythm theme is also inspired by a simplistic and minimalist approach to design. It utilizes natural, organic textures, and stone effects to create a design concept reflective of a modern metropolitan vibe. This style trend is perfect to create a contemporary, uncluttered, and simplistic space or as a perfect canvas to accentuate and elevate eclectic pieces and works of arts.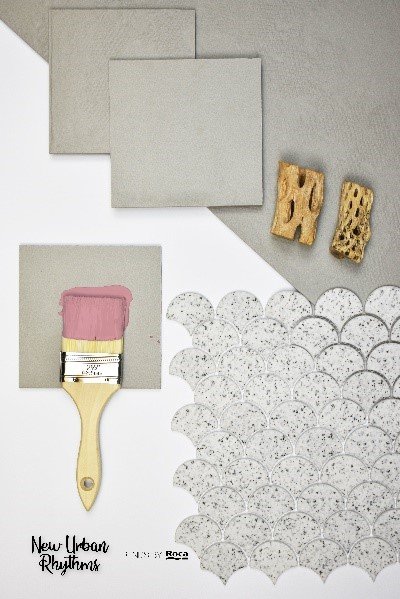 New Urban Rhythms: Concrete
This mood board highlights the following series:
Mixing the Plaster Collection with texture in the Melt Collection adds a great amount of design and dimension to your space. Add the Rockart Terrazzo Scales to the mix to create a beautiful focal point in your room while designing a unique decorative piece. We recommend including natural wood furniture or decorative elements to create a cohesive ambiance. Finally, adding touches of pink to the walls or as accent pillows on the furniture brings the complete look together.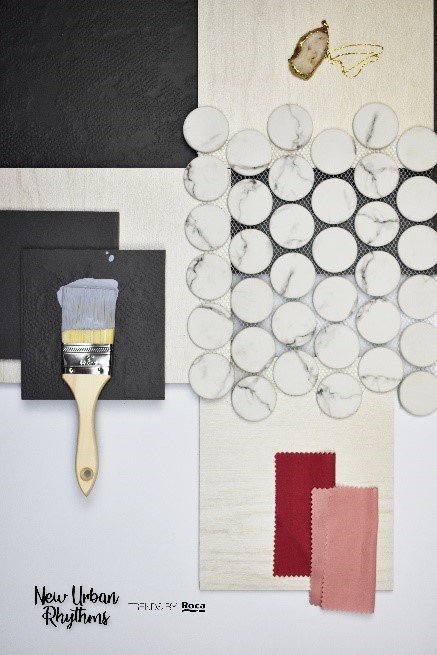 New Urban Rhythms: Wood
This mood board highlights the following series:
Start with the bold look of the Plaster & Melt Collection in its rich Antracita color. Add the Habitat Abeto to soften the space and include brightness into your design. The Statuary Dots mosaic will be the perfect finishing touch to unify the space.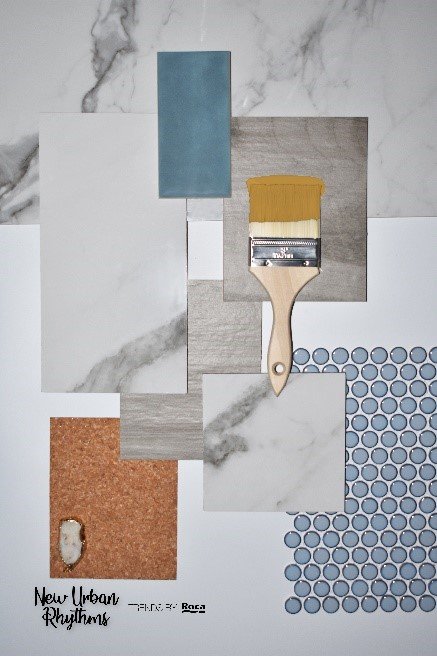 New Urban Rhythms: Color & Texture
This mood board highlights the following series:
CC Mosaics+ Sky Blue Penny Round 
The dramatic effect of Bianco Venatino marble, along with the contemporary look of gray woods, and different hues of blues with pops of yellow are ideal for creating the perfect Mediterranean vibes. Incorporate natural elements such as cork to give your space an organic look with a touch of warmth.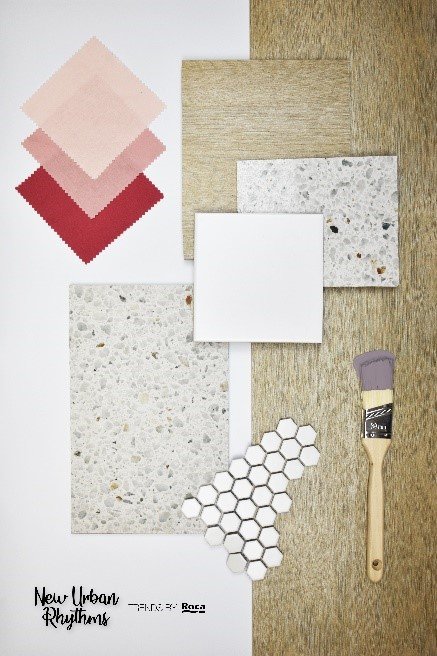 New Urban Rhythms: Marbles & Stones
This mood board highlights the following series:
Pigment Multicolor (special order)
Color Collection White Ice Bright 
CC Mosiacs Matte White 1×1 Hexagon 
You can never go wrong with Terrazo and wood! Our Pigment Multicolor porcelain pairs beautifully with our Habitat Roble wood-look porcelain, creating a modern version of the timeless terrazzo look.  Use white wall tile and mosaics to balance the overall aesthetic. Pairing this design with a pale pink pallet or rich lavender accents creates a room worthy of admiration.
Follow our social media channels to find more inspiration and stay up to date with the Roca 2018 – 2019 Trends.