Finding quality tile is more than just about getting products into your home. It's a long lasting, quality, easy-to-clean investment that will absolutely transform any property into a more modern, comfortable living space. They can be shaped into any corner or crevice you want, are much more economically efficient than other flooring methods, and come in a variety of colors. Some of these colors, when applied to flooring tile, are meant to create certain atmospheric effects in your home that can impact certain aspects of your mood, such as: 
Certain Colors Can Elevate Your Mood
Depending on your needs for certain areas of your living space, there are certain colors that may just help to create a warm, energizing environment (think a nice sunrise in your breakfast nook or a colorful art room). Specifically, browns, golds, and more yellow-leaning hues can help disperse light, create a brighter environment, and create an alert, happy feeling that we typically associate with those kinds of colors. You can find all of these colors and more in the Bergen, Abbey, Sequoia, and Everglade Collections.

Featuring Bergen Gris 6″x24″. This collection unites the warm elegance of natural wood with the technical benefits of porcelain tiles. 
Or Relax You
That being said, sometimes you want the near opposite effect for a room. Instead of making you alert and energized, some ceramic flooring tile can help make a space relaxed and focused. The colors that are typically used for this effect are cooler greys, whites, and blues. Of course, there are many tiles with a more "neutral" appearance that mix beiges and greys. Whatever your needs on this particular spectrum, you won't find any issues finding what you're looking for. 
It Can Change The Perceived Climate of Your Home
Depending on your local geographic climate, your home may be designed to disperse or retain heat. Certain parts of your home decor — such as your curtains and tiling — can assist in this too. Warm bright colors, like those in the  Color Collection, Block, Atlas, St Tropez and Olaria Collections, tend to reflect light and heat, which may help to maximize any brightness coming into your home without any additional energy expense. Of course, the opposite is true for cool greys and blues. You'll find a large selection of those cooler colors in the Legend, Pro Max, and Brickell collections.

Featuring Atlas Perla 12″x24″ R UP. This collection provides a contemporary and aesthetic look that fuses comfort, functionality, and originality.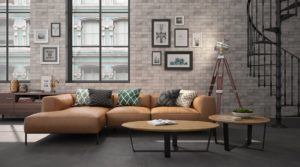 Featuring Brickell Blanco 3″x12″. With a neutral color palette, this collection is extremely versatile to achieve both modern and rustic spaces.
Or Help Expand or Shrink a Space
There are a lot of different ways that you can change the general perceived size of any given space in your home. One such method is placing large, light colored tile on the floors, like the beige tones found in the Armani, Positano, and Slabs  collections. Even the smallest of studio apartments can feel noticeably bigger with the right eye and tile. Experiment a bit and see what combination of colors/tile sizing works for your living space.

Featuring Armani Greige Matt 21″x41″ R. This collection is the expression of elegant simplicity and total harmony.
Looking For Quality Ceramic Tiling In Your Area? Call Roca Tile USA
Roca Tile USA is a worldwide leader in manufacturing quality ceramic & porcelain tile all across the US. With showrooms across the country, you'll always have easy access to some of the best tiles available.
To talk to our people about what we do, feel free to contact us at any time, and check out where our showrooms and distributors are closest to you.