Tiles are key when building your dream kitchen. Both porcelain and ceramic tiles could be used but it is important to know want kind of look you want to achieve in your kitchen to make the right choice. Choosing the right tile will bring together an amazing kitchen design. 
Choosing the right ceramic kitchen tile to personalize and protect the heart of your home is no small decision. Tile is versatile, resilient, and alluring enough to work great for floors, walls, backsplashes, worktops, and more. Because of this, knowing which tile you want and where you want it requires a fair amount of forethought. 
With that in mind, let Roca Tile USA give you a head start with these five one-of-a-kind kitchen tile designs.
Tiles design
1. Mosaic in Mini
Small tiles are ideal for creating smart and stylish mosaics in subtle ways that will have guests and visitors intrigued every time they step foot in your kitchen. Depending on your sense of adventure, a mini mosaic can be cast from classic shades like white, gray, or black matte, or go bold with bright red pepper penny round mosaic. You can also play with contrasting colors and patterns like black and white hexagon mosaic flowers. Whatever your taste, a mini mosaic is perfect for accenting a wall or as a backsplash.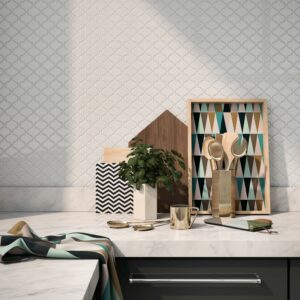 2. Subway: Regular or Herringbone
Paradoxically, something about the vintage quality of subway tiles confers an ultra-modern ambiance when properly placed in a kitchen. To ensure a contemporary chic, these rectangles can be re-oriented into a herringbone formation that is as hypnotizing as it is fancied. Choose from a classic flat tile or beveled, and select from a variety of colors.  Trending subway tile colors this year include soft blue bright, olive green bright, and deep blue bright.  You can also go for a more neutral tone like white or gray.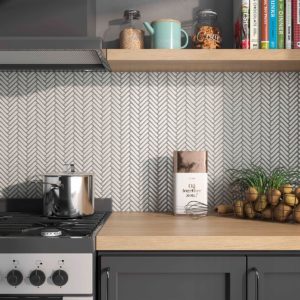 3. Rustic Faux Wood 
Do you live in the heart of an urban metropolis and yearn for a little bit of that country coziness? Look no further than Roca's diverse line-up of porcelain kitchen tiles that flawlessly reproduces that natural wood look with all the technical benefits of porcelain tile. One example is the Bergen Collection, featuring textural tiles that mimic beautiful oak and cherry wood.  Also noteworthy is the Abbey Collection, characterized by four varying tones that add a cozy, earthy touch to any room.
Look no further than the Everglade collection to add warm tones and gentle texture to your interior design plans. There's a large selection of faux wood tiles available that can match with a series of different stylings and highlights.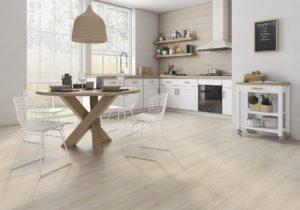 Check out similar collections like Bergen or  Everglade for more inspiration
4. Marvelous Marble
If the form of your kitchen is as important as its function, then you might want to consider the elegance of a marble finish. With interlocking threads of gray and black that twist through a gentle but sophisticated white, something like our Bianco Venatino glazed and polished porcelain is certain to make your kitchen stand out among the rest as a work of art, plain and simple.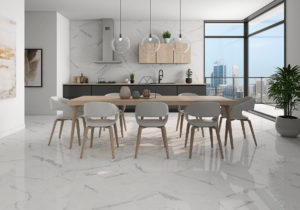 5. Plain Concrete
More and more, homeowners are looking to the clean and urban minimalism of concrete to transform the faces of their kitchens. Along with having a uniformity that feels spacious and minimizes visual clutter, Roca's concrete-style porcelain kitchen tiles capture a sense of harmony that is at once elegant and understated.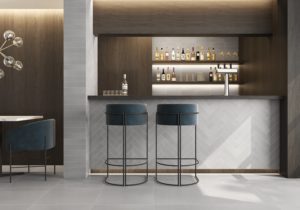 Cook in Style. Choose Roca Tile USA
When you want quality kitchen tiles, Roca Tile USA is the go-to choice. Our ceramic and porcelain tiles are not only high quality but are also environmentally friendly. Most importantly, they can be fitted in just about any outdoor or indoor setting, improving the overall appeal of your property.
For more inspiration on kitchen tile have a look at the projects we share on Instagram