Easy to clean, beautiful, and made to last, tiling is becoming an increasingly popular flooring option for a variety of homes. However, when you finally do decide to make the switch from some other form of flooring, it can be a bit difficult to determine exactly what you want. The options can be dizzying and you want to make sure that you choose something that's contemporary and stylish. To help with your next venture into porcelain tile, our experts have put together a guide of the hottest trends that you can apply to your next flooring project.
Make The Room Cooler
When it comes to temperature control via decor, your tiling is one of the best ways to help absorb or release heat based on the material and color it comes in. There's also the fact that simply opting for porcelain tile instead of carpet will help out your thermostat during hot summer months. Many homes opt to create an airy, cool, open feel, and using large tiles with cooler colors is one of the best ways to accomplish this.
Go With Polished Tiles
One way to create an eye catching, opulent look without a lot of hassle or money is to choose a polished tile. If you happen to be going for a more minimalist look throughout your home, a polished finish will help to accentuate any decor pieces you already have in the room as well as spreading like all throughout the space. Try the delicately textural Piasentina tiles , or any of the marble-inspired looks from our Slabs Collection.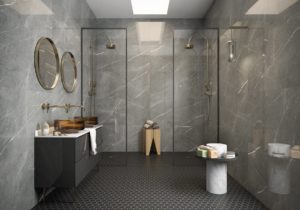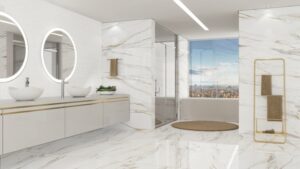 Note: Polished tile is also easier to clean than matte.
Go Natural
Natural, calming tones are a huge trend in many different homes. Dusty grey/blues and light browns, like in the Abbey and Positano Collections, will provide a neutral and timeless backdrop for any room. In some cases, you can even make the indoor tiling look like the outdoor pieces, allowing for a seamless integration to the outdoors, creating an inviting, calming space away from the rest of the world.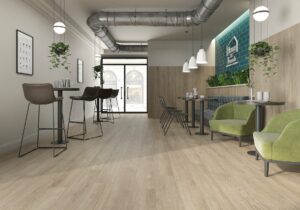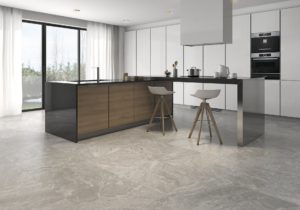 Some natural-looking tiling that you can purchase from Roca Tile include our
Momentum
,
Selva
,
Stone Basel
, and
Olaria Collections
.
Put a Modern Twist on The Old
Certain older trends, such as subway tiling and tiny 5×5 backsplashes may have once gone the way of floral furniture and decorative plates. However, oftentimes what was once old becomes new. This is certainly a case where what once seemed outdated gains a new lease on life with the opportunity to be updated and reimagined by the right minds. You can create your own old-meets-new look from the St Tropez Collection.
Use Geometry
One of the easiest ways to give your room a truly unique and personalized feel (in addition to getting that "modernized retro") is to get porcelain tile with geometric patterning on them — like flowers and heavy lines. It may seem a bit old fashioned at first, but with the right styling, it can breathe new life into any room. Go bold with patterns like in the Havana Collection, or mix and match neutrals with our Casablanca Collection.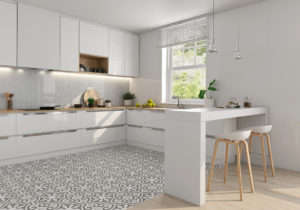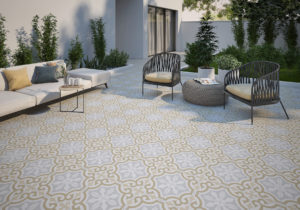 Don't Settle For Less With Your Tiling. Call Roca Tile USA.
If you're looking for reliable, quality tiling of all different materials and colors that will last for generations, look no further than Roca Tile USA. To learn more about us, contact us at any time.
You may also like: 7 ceramic and porcelain flooring tiles in earth tones